www.bethkanter.org Review:
Beth Kanter\'s Blog
- A place to capture and share ideas, experiment with and publish links about nonprofit technology, educational technology, adoption challenges, information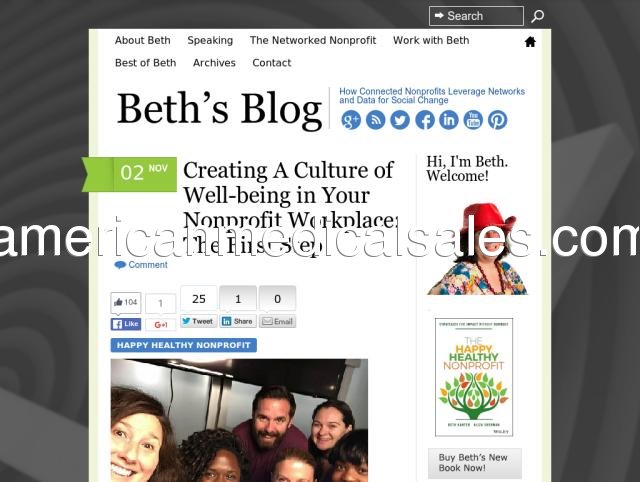 http://www.bethkanter.org/about-beth/ About Beth | Beth's Blog - Bio Beth Kanter is the author of Beth's Blog: How Nonprofits Can Use Social Media, one of the longest running and most popular blogs for nonprofits. Beth
http://www.bethkanter.org/speaking/ Speaking | Beth's Blog - I've been speaking to nonprofit audiences about networks for social change, social media for social good and fundraising, data and learning, nonprofit
http://www.bethkanter.org/the-networked-nonprofit/ Books | Beth's Blog - My new book is available for pre-order here. Get a copy of my book, "Measuring the Networked Nonprofit" with Co-Author, KD Paine or download the Kindle
http://www.bethkanter.org/work-with-beth/ Work with Beth | Beth's Blog - If you're interested in working me with, please use my contact form to send me an inquiry. Some examples of my work: Training and Capacity Building
http://www.bethkanter.org/best-of-beth/ Best of Beth | Beth's Blog - Here's where you can find links to my presentations, articles, resource lists, workshop curriculum, and more. Presentations: Heard me speak at a
http://www.bethkanter.org/contact/ Contact | Beth's Blog - Speaking Availability Inquiry? If you're interested in finding out my availability for speaking engagements, please include the date, location, name of the
http://www.bethkanter.org/inspired-motivated/ The One Simple Thing That Nonprofit Leaders Do To Keep Inspired and Avoid Burnout | Beth's Blog - Mike Brune, Sierra Club Executive Director Yesterday, I was honored to fill in as MC and interviewer for Darian Rodriguez Heyman at the Nonprofit Fundraising
http://www.bethkanter.org/happy-healthy-fundraiser/ A Few Self-Care Tips for Fundraisers During Stressful Year End Giving Time | Beth's Blog - Flickr Photo by Brittany Bush We are heading into the most stressful time of year for nonprofits, especially for fundraisers. Year-end giving campaigns.
http://www.bethkanter.org/step-it-up/ Let's Step It Up: Join Me for a Walking Challenge | Beth's Blog - The Surgeon General in partnership with Fitbit has issued the Step It Up! Challenge open to all Americans, running from October 13, 2016 at 12:01 AM PDT and
---
Country: 216.92.190.18, North America, US
City: -79.9791 Pennsylvania, United States
Kelly - Not to bad.

Bought this for my 10 year old who started collecting National Park Quarters. If he enjoys collecting coins I will definitely buy him a better one. For now I'm happy with it. Got it in good condition. Package well. Don't push the quarters in to hard it may rip the backing.
Amanda Townsend - Awesome!

Love the song and the artist! The sound quality was great sounds perfect on small or large systems couldn't be happier!
Orin - great product

Keep hair really soft for the week. Gentle on scalp. Hair smelled great. Love the container the conditioner is in
_____ - Returning it does work but not for me

It works it connects it talks to you connecting connected power on off. Does it actually stay in my ear hells no the point was to use it for work but I spent more work fiddling with it I may return it in a few days when I have time and get something that I don't have to play where's Waldo. Now it does work but it's not for everyone's ears and it does come with 3 sizes none fit right at all. And the piece itself has a bit of weight to it if it is in your ear and u are on the computer or u think u want to go for a water or a run save ur money u will be finding this thing all day as it tumbles out of ur ear. I was betting on this to work very good b cuz I really needed one.
Woofie1 - Great deal!

So far, so good. I bought these after purchasing two sets of headphones from Costco. One quit working after two weeks of light use and the second pair didn't work at all, right out of the box! I bought these because I liked the warranty on these. I don't know whether they will do 8 hours of playback, but I think that they are pretty close. So far, they playback longer than others I have had. The sound is pretty good, given the price. I'm not looking for or expecting $200 Bose headphones refined sound quality. The sound is great, considering the price. The ear pieces stay in my ears, especially with the hooks that go over my ears. I'd buy these again. I just hope I don't have to.