www.sofistar.net Review:
Home
- Sofistar is a company that offers software development and consultancy, primarily for the financial industry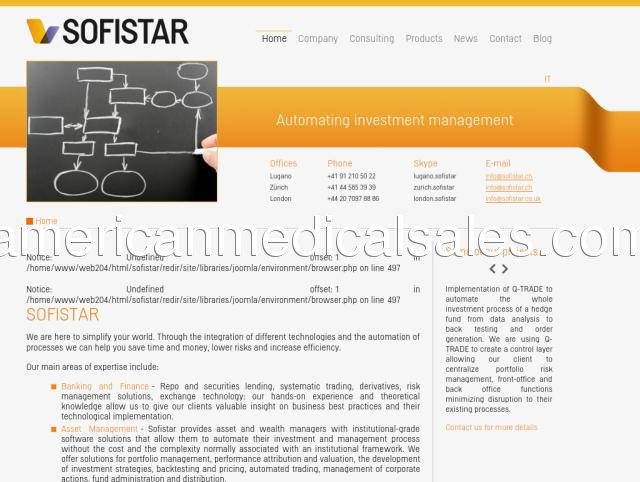 ---
Country: 85.10.196.5, Europe, DE
City: 8.5836 Hesse, Germany
Bixby Reader - Many great stories; others not so good

Many stories are great, but I just couldn't get through a few and had to skip them. Perhaps I don't understand the bigger picture (?)
Eduardo Hernandez - YOU NEED TO TRY IT!!

I am a male and have had acne problems since the age of 12. I wanted something natural that didn't have so many chemicals that would irritate my sensitive skin. Honestly, things today are made with so many chemicals that it's shocking.
G. Erickson - Great software... with unfortunate licensing

I have used many home design programs over the past 15 years, and I have always reverted to using a 2d CAD program because they are 80% solutions. So I was skeptical when it came to trying yet another program.
Everything said about this film is true - Everything said about this film is true

Just about everyone consider this 1951 film version of the oft-told tale to be the definitive movie adaptation, and I am inclined to agree with them (Although the 1984 George C. Scott version is a good rival). Okay, I do think the 'Christmas Past' sequence is a tad too lengthy, but the whole film fits together so well that this little complaint doesn't carry that much weight. Director Brian Desmond Hurst gives the right balance of heart and darkness, but the major credit belongs to Alastair Sim. He gives out a full 3-dimensional characterization of the aged Miser: cruel, witty, smug in his deviousness, bewildered, pathetic, reluctant, pleading, and repentant. Also, being a comic actor, Sim successfully injects humor in several scenes (most emphasized in his jolly transformation on Chritmas morning). At the end of the film Scrooge suprises the audience by almost changing back to his old gloomy self (before exploding with an outburst of the giggles. 'I can't help it'). Of course that is not to say Sim is the only good performance; There's Michael Hordern in agony as a memorably melodramatic Jacob Marley, Mervyn Johns gives dignity in his meek Bob Cratchit, Carol Marsh is moving as Scrooge's sister (especially in her visit to her lonely brother in school) and Glyn Dearman's Tiny Tim succeeds in being cute and endearing without being a little too much. The production, special effects, and music (using strains of 'Barbara Allen') are also well done. A memorable show rightly praised.